The Thirsty Dead
---
Original-Titel: The Thirsty Dead
Regie: Terry Becker
Land: USA/Philippinen
Jahr: 1974
Darsteller:

Jennifer Billingsley, John Considine, Judith McConnell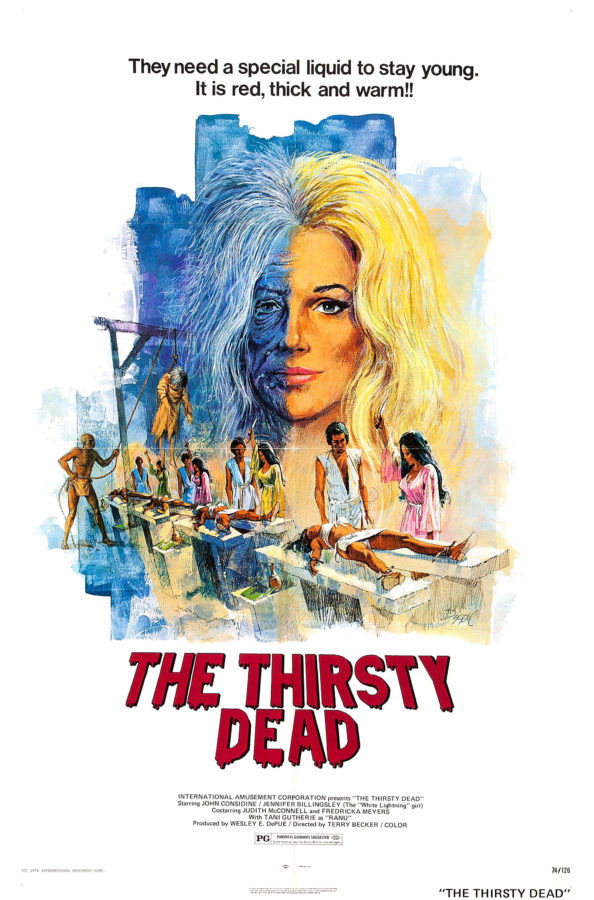 ---
Vorwort:
Normalerweise kann man Filipino-Adventure-Horror selten vorwerfen, langweilig zu sein, aber, öha, ist das ein Schnarcher vor dem Herrn.
In Manila werden reihenweise junge Frauen entführt und in den Dschungel verschleppt. Dort hockt ein Clan Unsterblicher, der sich durch die Kombination einer Dschungelpflanze mit Jungfrauenblut jung und knusprig hält. Laura ist das Ebenbild einer Prophezeihung o.ä. und soll daher in den Kult aufgenommen werden. Als sie realisiert, wie die ganze Nummer funktioniert und dass diejenigen, die soweit ausgesaugt sind, dass sie den Unsterblichen keine Lebensenergie mehr spenden können, als verschrumpelte Alte in ein Verlies gesperrt werden, flüchtet sie mit ein paar Freundinnen, wird aber wieder eingefangen. Baru, sowas wie ein Priester des Kults, lässt sich allerdings von Laura bequatschen, dass der Kult und sein Lebensstil doch eher evil ist, und geht mit ihr und zwei anderen Girls stiftend, wohl wissend, dass seine Unsterblichkeit nur bis zu einer bestimmten geographischen Grenze anhält...
Inhalt:
Bis auf ein paar schöne location shoots und den unvermeidlichen Vic Diaz (in einer kleinen Rolle als Polizeichef) ist das wirklich ein elender Langeweiler, in dem nicht wirklich viel passiert, und schon gar nicht großartig exploitatives oder horribles. Kein einziges der durchaus schnuckligen Girls macht sich nackig und der blutigeste Horroreffekt ist ein kleiner harmloser Schnitt in einen Hals. Da bin ich von meinem Filipinokram schon anderen Tobak gewohnt. Erschienen bei Something Weird, gepaart mit "The Swamp of the Ravens"; der hoffentlich etwas aufregender ist.
1/5
(c) 2016 Dr. Acula