The Black Raven
---
Original-Titel: The Black Raven
Regie: Sam Newfield
Land: USA
Jahr: 1943
Darsteller:

George Zucco, Wanda McKay, Noel Madison, Glenn Strange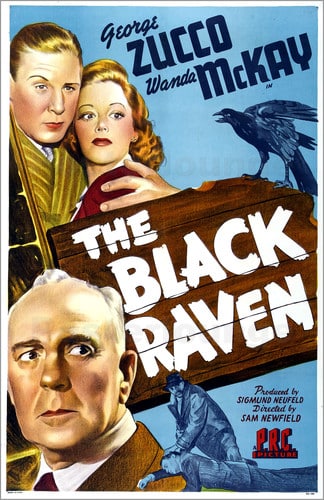 ---
Vorwort:
Indeed a nice little murder mystery... Amos Bradford (Zucco) betreibt ein Gasthaus kurz vor der kanadischen Grenze, bedient aber nicht nur "normale" Reisende, sondern bietet auch einen Über-die-Grenze-Schmuggel-Service für flüchtende Ganoven an. Selbigen will in einer stürmischen Nacht der Mafioso Bardoni in Anspruch nehmen. Der Zufall spült (im wahrsten Wortsinne) noch den Buchhalter Weatherby nebst 50.000 unterschlagenen Dollars, die Jungverliebten Allen und Lee, die in Kanada heiraten wollen, um Lees Daddy zu foppen, und eben jenen Vater, Mr. Winfield, der selbiges zu verhindern sucht, ins Gasthaus. Winfield ist zudem noch indirekt dafür verantwortlich, dass Bardoni sich abseilen muss. Außerdem hüpft noch ein entsprungener Sträfling und früherer Komplize Bradfords rum, der sich an ihm zu rächen gedenkt. Winfield erkennt Weatherby und knöpft ihm die Kohle ab. Hat aber nicht viel davon, weil er wenig später erschlagen aufgefunden wird. Für den zufällig vorbeikommenden Sheriff ist Allen praktisch schon verurteilt. Bradford allerdings ist sich sicher, dass der Killer ein anderer ist...
Inhalt:
Dank der kurzen Laufzeit flottes kleines Mystery, das vor allem eine interessante Rolle für Zucco bietet - Bradford ist zwar ein "crook" und immer willens, sich auch mit Gangstern zu arrangieren, aber er will nicht zulassen, dass ein Unschuldiger für einen Mord büßen muss. Interessant auch der Part von Glenn Strange, dem Frankenstein-Monster aus "House of Frankenstein", "House of Dracula" und "Abbot & Costello Meet Frankenstein", der hier, seinen 2 Meter Körpergröße zum Trotz, den comic relief abgibt.
Zwar kein Horror, sondern ein reinrassiger Crimefilm, aber allemal gute Unterhaltung aus dem Armenhaus (in diesem Fall von PRC).
3/5
(c) 2015 Dr. Acula